| | |
| --- | --- |
| By | Ad |
I often hear about how important a spiritual program is to healing from sexual addiction.  Along with that goes the routine emphasis that other programs are not as important and often distractions from the sound principles of prayer, scripture reading, and meditation. It often seems to be an either/or proposition, to the effect that, one is either working a spiritual program or one is working a sham.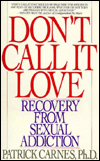 This is consistent with the notion, which I subscribe to, that addicts tend to think in the extremes. Black and white thinking is pretty common and is a hallmark of a compulsive personality. These extremes are described in the terms, "acting out" and "acting in." Dr. Patrick Carnes writes about this in his book, Don't Call It Love. He describes acting out and acting in in terms of extreme thinking along several dimensions. Read about my personal struggle with this here. I have found it to be an accurate portrayal of my own addict mentality. It takes effort for me to not fluctuate between the extremes of acting out and acting in. My addict way of doing things wants me to be either all bad or all good. It all puts my heart in a constant state of upheaval. When I am swinging from acting out to acting in, my behavior goes out of control and all of my relationships suffer.
One form of extreme thinking is the narrow definition of terms like: acting out, acting in, sobriety, recovery, abstinence, and worthy. In particular, "acting out" and "acting in" both refer to modes of thoughts, feelings, and behaviors, not one specific behavior. For example, regarding looking at pornography. It is often said, but not accurate, "I acted out last night." The sin of one episode of looking at pornography is not acting out. Acting out is the mode of thoughts, feelings, and behaviors that surround the experience of looking at the pornography. Likewise, acting in is the mode of thoughts, feelings, and behaviors that lead to white-knuckled abstinence from looking at pornography. Knuckles get tired quickly.
I don't intend to discount the value of a spiritual program, but I also don't want to overemphasize it. I should put that differently. I want to expand the meaning of a spiritual program, reminding myself of the scripture that says that all things to God are spiritual.
Wherefore, verily I say unto you that all things unto me are spiritual, and not at any time have I given unto you a law which was temporal; neither any man, nor the children of men; neither Adam, your father, whom I created.

Behold, I gave unto him that he should be an agent unto himself; and I gave unto him commandment, but no temporal commandment gave I unto him, for my commandments are cspiritual; they are not natural nor temporal, neither carnal nor sensual (D&C 29:34-35, emphasis added).
To me, this is as clear as it could be that discounting some aspects of a program as not spiritual denies the spiritual aspect of anything that is effective in leading a person to repentance and righteousness. As Mormon wrote:
For behold, the Spirit of Christ is given to every man, that he may know good from evil; wherefore, I show unto you the way to judge; for every thing which inviteth to do good, and to persuade to believe in Christ, is sent forth by the power and gift of Christ; wherefore ye may know with a perfect knowledge it is of God. 

But whatsoever thing persuadeth men to do evil, and believe not in Christ, and deny him, and serve not God, then ye may know with a perfect knowledge it is of the devil; for after this manner doth the devil work, for he persuadeth no man to do good, no, not one; neither do his angels; neither do they who subject themselves unto him (Moroni 7:16-17).
I recently heard someone say recently that he was going to avoid returning to professional help, help that was effectve, because it seemed to him like trusting in the arm of flesh. I was astounded to think that good, qualified professional help might be something bad. To me, this sentiment is one of the most unfortunate aspects of extreme thinking regarding the tools that are available for people to overcome addiction.
I have often heard people say thinks like:
This is just between me and the Lord.
I don't need anyone but the Savior.
Help is nice, but I'm looking for the Lord to heal me of this.
I don't want to go to a group, because I just want to keep this between God and me.
Here is what President Spencer W. Kimball said:
God does notice us, and he watches over us. But it is usually through another person that he meets our needs. Therefore, it is vital that we serve each other in the kingdom. The people of the Church need each other's strength, support, and leadership in a community of believers as an enclave of disciples. In the Doctrine and Covenants we read about how important it is to '… succor the weak, lift up the hands which hang down, and strengthen the feeble knees.' (D&C 81:5.) So often, our acts of service consist of simple encouragement or of giving mundane help with mundane tasks, but what glorious consequences can flow from mundane acts and from small but deliberate deeds (Teachings of Presidents of the Church, 82.)!
At first glance, the statements people make about keeping recovery between them and God seem spiritual, even pious. In light of President Kimball's words, I think they are proven as errors and the kind of extreme thinking that keeps addicts addicted. They are a form of acting in, which when practiced, inevitably leads to acting out.
It is the instrument of a good, loving, and thoughtful friend that I want to encourage. Don't lock yourself up in a cocoon of false spirituality, insisting that this is just between you and God.
There is, in my opinion, nothing so damaging to human relationships as sexual addiction. It is thoroughly a relationship problem. It is certainly a problem for a relationship with God, but it is also a problem for the human relationships we each should be able to enjoy in partnership with God. It stands to reason that the key is undoubtedly to re-establish a relationship with God, but it seems to me that it must inevitably involve healing relationships with other human beings.
With all of your prayer, reading scriptures, singing hymns, attending meetings, confessing to bishops, progressing in the gospel, do not neglect the building and healing of relationships with people. Go to groups. Get out around good people. Open up to friends and family. Be sociable. Make good relationships with people whose creed is like the prayer of Saint Francis of Assissi in the 13th century:
Lord, make me an instrument of Thy peace;
where there is hatred, let me sow love;
where there is injury, pardon;
where there is doubt, faith;
where there is despair, hope;
where there is darkness, light;
and where there is sadness, joy.

O Divine Master,
grant that I may not so much seek to be consoled as to console;
to be understood, as to understand;
to be loved, as to love;
for it is in giving that we receive,
it is in pardoning that we are pardoned,
and it is in dying that we are born to eternal life.

Amen.